Dear YAV Community
We are delighted to announce that with the easing of restrictions in SA we are able to return all choirs to face to face rehearsals at YAV.
UPDATE FROM 12/8/21- All those entering the building, including choristers over 12, must wear a mask.
In order to comply with our SA Health/Gov Covid-Safe Plan we have had to make a few amendments to our usual rehearsal evenings, and we would very much appreciate your support in following our new processes while we are still social distancing.
Please read through the following information and contact me by email if you have any questions: choiroffice@yav.asn.au
Points to note:
There will be no set toilet breaks in rehearsals, access to the toilets will be on a needs basis
DO NOT COME TO CHOIR IF UNWELL, INCLUDING FAMILY MEMBERS DROPPING OFF OR PICKING UP
DO NOT COME TO CHOIR IF YOU OR A HOUSEHOLD MEMBER HAVE BEEN INSTRUCTED TO QUARANTINE OR IF YOU OR A HOUSEHOLD MEMBER HAVE HAD A COVID TEST AND NOT YET RECEIVED A NEGATIVE RESULT
Chairs will be wiped before and after each rehearsal. 1CC, MVG and Aurora will be required to wipe their own chairs before putting away
Before Rehearsals:
No food to be brought to rehearsals
Please bring your own small, named pencil case with a pencil, eraser and sharpener
Bring a filled water bottle
Bring your music folder
Email any general enquiries regarding membership or fees rather than coming in. The office will be closed as it is too small for social distancing, but Anthea will still be on hand as Choir Co-ordinator to support the groups
Parents and visitors entering the buildings are required to sign in using the Covid QR Code or manually record their details.
Arrival at Rehearsals:
Please don't arrive too early for rehearsals
Do not drive into the car park. Access on foot from Little Grenfell St, Fullarton Road or Grenfell St.
Drop off: Back Hall –usual main door beside the office. Front Hall –door facing on to Fullarton Road
Everyone entering building must sanitize hands. Sanitizer will be provided by YAV
We are required to keep a register of everyone in the building, including parents if you need to come in – QR Code check in please
No choristers hugging each other please! As much as you may have missed your friends, please maintain your social distance at rehearsals
During Rehearsals
Choristers will be asked to spread out and younger choirs will play non touching musical games
Choristers will remain seated as much as possible
No breaks in rehearsals – no food to be consumed. Water bottles will not be able to be refilled
No items are to be shared including water bottles, stationery, music
Departure from Rehearsals:
Please do not arrive too early for pick up and send someone else if you are at all unwell
Pick up from designated areas. Back hall in breezeway between church and halls, Front hall in front of church next to Fullarton Road
Adults picking up must remain socially distant, 1.5m apart
Choristers departing will sanitize their hands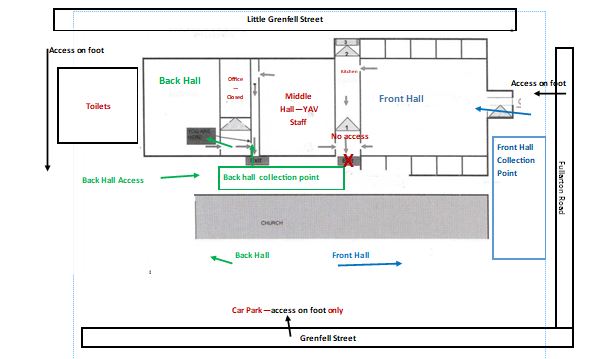 We are very aware that there are a lot of instructions and some changes to take on board, but we are sure that once we get going it will all happen smoothly with your assistance. Staff and choir guardians will be on hand to support the choristers. The adjustments that we have to make are worth it for our choristers to benefit from the happiness and healing that comes with singing together.
From Beyond Blue:
Singing at the top of your voice whether in the shower, in the car, or at a gig, has the power to release sheer, unbridled joy. Singing in harmony with other people however takes things to another level.
Not only does singing with others make us feel good, it's incredibly beneficial for our health, too. Neuroscience indicates that it makes us happier, healthier, smarter and more creative. And by increasing the brain's neuroplasticity (the brain's ability to change continuously throughout an individual's life), it can also improve memory, language and concentration.
In terms of mental health, research shows that singing collectively can decrease symptoms of anxiety, stress and depression. The social bonding experienced while singing with other people triggers 'feel-good' hormones such as endorphins and oxytocin, which in turn boost our sense of wellbeing – as well as our immune systems.
---
It is a requirement of your YAV Membership that you follow your choir blog to ensure you keep up to date and receive any changes and information:
https://juniorchoir.wordpress.com/
https://intermediatechoir.wordpress.com/
https://secondconcertchoir.wordpress.com/
https://firstconcertchoir.wordpress.com/
https://malevoicechoir.wordpress.com/
Please click 'follow' to receive emails when new information is posted. This is to ensure that everyone receives the same information and it is accessible in a central place in chronological order.
---
If you have any questions, please contact me: choiroffice@yav.asn.au
We very much look forward to welcoming our choristers back from week 1 next term! Enjoy the holidays and stay safe in the meanwhile.
Kind regards
Tracy Shepherd
YAV Manager