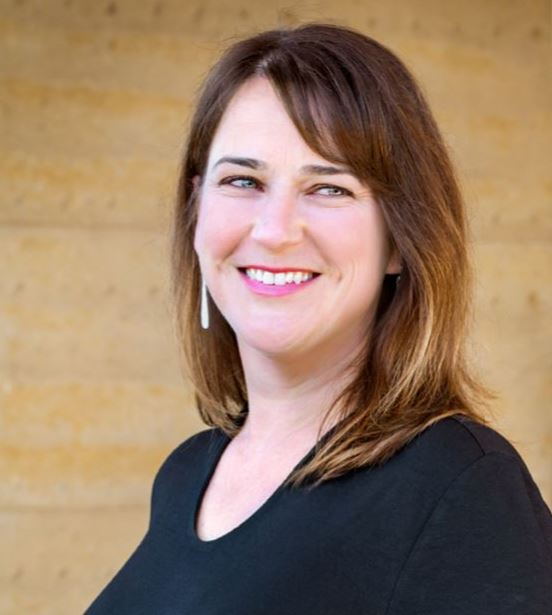 Christie Anderson says:
The music-making, the dedication of choristers and staff, and those wonderful moments when everything just clicks and the music is sublime, and Angela's gourmet chocolates.
Christie Anderson's Choirs
Christie Anderson
Christie Anderson is a singer and conductor and has worked with choirs and choral music for the past 14 years. She began as YAV's Artistic Director in 2009 and is the conductor of Young Adelaide Voices (First Concert Choir) and YAV's senior vocal ensemble, "AURORA".
Christie is a founding member of the award-winning EVE vocal trio and tutor and conductor at Adelaide University's Elder Conservatorium of Music. She was Musical Director of the Corinthian Singers of Adelaide from 2005 – 2009. Christie has been a core member of Adelaide Chamber Singers for many years and in 2012 was appointed as the Adelaide Chamber Singers Associate Conductor. She has sung in many festivals in Australia and around the world, including the UK, USA, Norway, Canada, Malaysia and Japan. She works with choristers of all ages.
Christie began singing in choirs at an early age and it was through her work with ACS, and in her position as Artistic Director of the early music festival Early Music in Late May in Norwich, England from 1997 – 2000, that she developed a love for early vocal chamber music and ensemble singing with choirs large to small.
Recent highlights have included conducting the Adelaide Chambers Singers in the Adelaide International Guitar Festival, working with Young Adelaide Voices in Mahler Symphony #8 in the Adelaide International Festival of Arts, Bernstein Mass (2012 Festival) and Lord of the Rings, all with the ASO; performing as one of eight female chorus members in the Adelaide Festival Opera Ainadamar, (the fountain of tears), directed by Graeme Murphy and conducting both the West Australian and Tasmanian Symphony Orchestras as part of Symphony Australia's Conductor Development program.
Christie has had many opportunities to travel, and recently attended as a conductor, Europa Cantat Utrecht an international choral festival in the Netherlands, focusing on the training of young voices in choirs. In 2010 she toured with Aurora to Canada to represent Australia at the International Kathaumixw Festival in Powell River, British Columbia and in 2012 Christie took Young Adelaide Voices to the USA, where in addition to performances in Connecticut and Washington DC, the Choir received a silver medal at World Choir Games in Cincinnati and swept the pool at the 9th International Golden Gate Youth Choir Festival in San Francisco, winning First Prize in all youth choir categories.
Christie has performed with some amazing groups, including with the Adelaide Chamber Singers and the Swedish duo "Wild Birds and Peace Drums" at WOMAD, and as a backing singer for the Hilltop Hoods latest release Drinking From The Sun. Christie also spent some of her summer holidays as conductor of the Australian Intervarsity Choral Festival, hosted by Adelaide and Flinders Universities, performing the Rachmaninoff Vespers with 150 singers at St Peter's Cathedral.
In Christie's spare time she cooks, protects the world from her cats, Archie and Pandora, and loves being Aunty to her young nephew Jasper and niece Kitty.
She loves it all!